Leogang 2016: Gwin wins again
The fourth round of the World Cup 2016, which took place on the Leogang track, offered as always, an exciting final!
Aaron Gwin, that had no damage this year, finished with a time of 3:28,686, in front of the Frenchman Loris Vergier with more than 3s. Vergier signs his best performance since he reach the Elite group!
Best performance also for the junior Gaetan Vigé (Team commencal) that sticks more than a second to the current leader, Finn Iles, and move up one place at the general!
For the women, Rachel Atherton continues tu beat records, with a tenth consecutive victory in World Cup. Note also the excellent performance of the Canadian, Miranda Miller... A rider to follow in the future.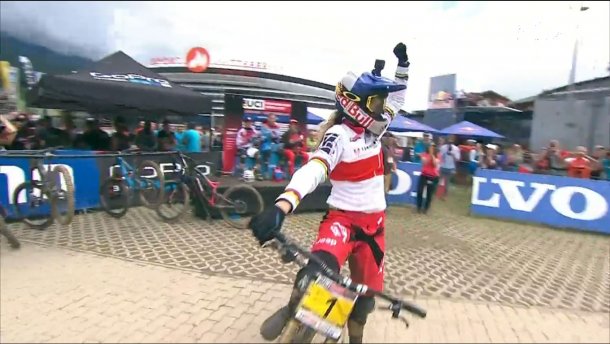 Next round is in just one month, in Lenzerheiden, Switzerland ...
Top 10 men :
GWIN Aaron 3:28.686
VERGIER Loris 3:31.817
BROSNAN Troy 3:32.804
HART Danny 3:34.055
MINNAAR Greg 3:35.165
WILLIAMSON Greg 3:37.116
KERR Bernard 3:37.192
FEARON Connor 3:37.661
SMITH Joseph 3:38.661
THIRION Remi 3:38.784

Top 10 Women :
ATHERTON Rachel 4:09.394
SEAGRAVE Tahnee 4:14.764
MILLER Miranda 4:19.306
HANNAH Tracey 4:20.883
CARPENTER Manon 4:21.349
SIEGENTHALER Emilie 4:25.707
CABIROU Marine 4:32.464
WIDMANN Veronika 4:35.753
RUBESAM Sandra 4:37.353
BARTOVA Jana 4:39.683

Top 5 Juniors :
VIGE Gaetan 3:50.934
ILES Finnley 3:51.559
COUGOUREUX Sylvain 3:55.053
NESTOROFF Nikolas 3:55.530
HEAP Elliott 3:57.573